​Jennifer Burd: Writer and Teaching Artist

Jennifer Burd has had poetry published in numerous print and online journals and anthologies. She is author of two full-length books of poetry, Days' Late Blue (2017; Cherry Grove Collections) and Body and Echo (2010; PlainView Press), a chapbook with CD of original poems set to music by Laszlo Slomovits, Receiving the Shore (2016, Little Light Publications), and a book of creative nonfiction, Daily Bread: A Portrait of Homeless Men & Women of Lenawee County, Michigan (2009; Bottom Dog Press). She is co-author of a children's play based on Patricia Polacco's book I Can Hear the Sun, which was produced by Wild Swan Theatre of Ann Arbor, Michigan, in 2015. She is also the recipient of the 2016-2017 Picture Book Mentorship Award from the Society for Children's Book Writers and Illustrators (SCBWI), Michigan Chapter. Burd received her MFA in Creative Writing from the University of Washington in Seattle. She currently teaches creative writing classes online through The Loft Literary Center (Minneapolis).
​Author Photo by Linda Navarro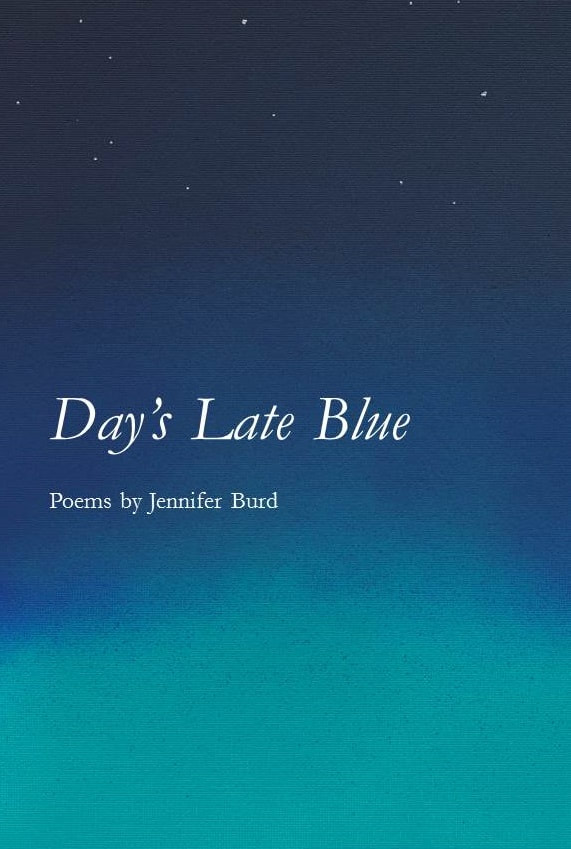 News
​
Jennifer's poem "Prison Literature Class" appears in A Constellation of Kisses, a new anthology from Terrapin Books.
"As soon as I heard this anthology's title I thought of the words Jimi Hendrix made famous: 'Excuse me while I kiss the sky.' These pages are constellated with all manner of kisses in all manner of patterns."
​ —from the Foreword by Lee Upton
​
​Read the review of Jennifer's newest book of poetry,
Day's Late Blue,
in the latest issue of Border Crossing.
Below is a poem from the book, "If You Ask Me":
If You Ask Me
If you ask me
I'll say I dread
the coming cold
forgetting how
I'll warm myself
at the way the maple
holds fire
in its branches
but doesn't burn –
a slow flaring
until the embers fall –
and all winter
above the ashes
smoldering green
beneath the skin.
Day's Late Blue
was published by Cherry Grove Collections in July 2017. It can be purchased from Jennifer (jburd@tc3net.com), from


WordTech Communications



,
and at
Amazon.com
.
Past EventsPrivate Benefit Concert: Dancing Off the Page - Poetry Set to Music
There is an ancient tradition throughout the world, of poetry not only being read from books, but also set to music and sung. In late July, 2019, Jennifer joins Laszlo Slomovits, award-winning songwriter, composer and singer, to present a program of a great variety of poetry read and sung. This program is a private house concert to benefit the Ann Arbor nonprofit Food Gatherers. The poems range from the transcendent, spiritual lyrics of the 12th and 13th Century Sufi mystics, Rumi and Hafiz, to the classic poems of the American greats, Robert Frost and Emily Dickinson, right up to the contemporary Naomi Shihab Nye, Daniel Gerber and Linda Nemec Foster. A special feature of the event is Jennifer's lyric poetry which Laszlo has set to music, as well as the reading of her award-winning haiku, to which Laszlo responds with various folk flutes in a spontaneous, improvised dialogue between words and music. Much of Jennifer's poetry highlights Michigan landscapes. With dynamic readings, gorgeous melodies and lively rhythms, the poems dance off the page, as Jennifer and Laszlo bring the magic of live reading and music to timeless lyrics.
Haiku for February
January thaw
moonlight leaks
under the door
(Modern Haiku, volume 51.2, Summer 2020)
​
Walking Into Dawn:Creative Writing Critiques
"One breath taken completely; one poem, fully written, fully read - in such a moment, anything can happen."
― Jane Hirshfield, Nine Gates: Entering the Mind of Poetry
I offer paid critiques for poetry and creative nonfiction. This is based on a month-long model that can be tailored to your needs.
Contact Jennifer at jburd@tc3net.com for more information.
Sample structuring for poetry critiques follows:
POETRY CRITIQUESOPTION I:
In-depth poetry critiques available for $40 per poem; book-length manuscript critiques for $250
OPTION II:
Revision-Process Critiques; $160 for four weeks
For each of four weeks I will
Critique up to four pieces (no more than one per week), either new pieces or revisions
Answer questions by e-mail on each piece, providing feedback on any revisions made during the week. (If you prefer to work on the same piece during following weeks, that is also fine)
Provide poems by published poets to look at and discuss together, that I think will be helpful models
Additionally, at the end of the four weeks I will
Offer suggestions for publication
Make suggestions to further your particular writing goals
If you would like to have more or fewer weeks, the cost is calculated at $40 per week.
PublicationsBooks:
Day's Late Blue
(Poetry; Cherry Grove Collections; 2017)
Receiving the Shore
(Poetry/CD, with Laszlo Slomovits; Little Light Publications, 2016); see a review in the
Ann Arbor Observer
Body & Echo
(Poetry; Plain View Press, 2010)
Daily Bread: A Portrait of Homeless Men & Women of Lenawee County Michigan
(Creative nonfiction; Bottom Dog Press, 2009)
Anthologies:
A Constellation of Kisses
(Terrapin Books, 2019): "Prison LIterature Class"
Memories Flow in Our Veins: 40 Years of Women's Writing from CALYX
(Calyx Editorial collective; 2016):
"Recalculating"
The Way North: Collected Upper Peninsula and New Works
(Edited by Ron Riekki; Wayne State University Press, 2013): "haiku"
Poetry in Print Journals:
Jennifer has had poetry published in numerous print journals, including
Beloit Poetry Journal, Southern Poetry Review, Calyx, Modern Haiku, Acorn,
and
Haiku Presence.

​​
Selected Poetry Archived in Online Journals:
tinywords:
haiku

​
"Recalculating" at
Calyx
Ann Arbor Review:
Issues 9 – 16
NEAT (Winter 2015):
"Before and After"; "Beginning"
Glint,
Issue 7, Fall 2015
Antiphon:
Issue 11, Spring 2014
Joint Poetry with Laszlo Slomovits Archived in Online Journals:
Segue:
Volume 12, Fall 2014
Redheaded Stepchild: (Winter 2015): "Between Light"​
Articles in Online Journals:
Poets Quarterly, Summer 2015​:
"White Space as Metaphoric Frame"
Awards
​The Bellingham Review, Spring 1988 (second place,
49th Parallel Poetry Contest
)
Michigan Associated Press Editorial Association Award,
2002 (third place for "Homeless in Lenawee County" series published in
The Daily Telegram
, Adrian, Michigan)
​Honorable Mention,
World Monuments Fund
2012 Haiku Contest

2016-2017 Picture Book Mentorship Award, SCBWI - Michigan

​