​Jennifer Burd: Writer, Editor, Teaching Artist

Jennifer Burd has had poetry published in numerous print and online journals. She is author of two full-length books of poetry, Days' Late Blue (2017; Cherry Grove Collections) and Body and Echo (2010; PlainView Press), a chapbook with CD of original poems set to music by Laszlo Slomovits, Receiving the Shore (2016, Little Light Publications), and a book of creative nonfiction, Daily Bread: A Portrait of Homeless Men & Women of Lenawee County, Michigan (Bottom Dog Press; 2009). She is co-author of a children's play based on Patricia Polacco's book I Can Hear the Sun, which was produced by Wild Swan Theatre of Ann Arbor, Michigan, in 2015. She is also the recipient of the 2017-2018 Picture Book Mentorship from the Society for Children's Book Writers at Illustrators (SCBWI), Michigan chapter. Burd received her MFA in Creative Writing from the University of Washington in Seattle. She currently teaches writing and literature classes at Jackson College and Washtenaw Community College, both in Michigan, as well as creative writing classes online through The Loft Literary Center, Minneapolis, MN.
​
​Author Photo by Linda Navarro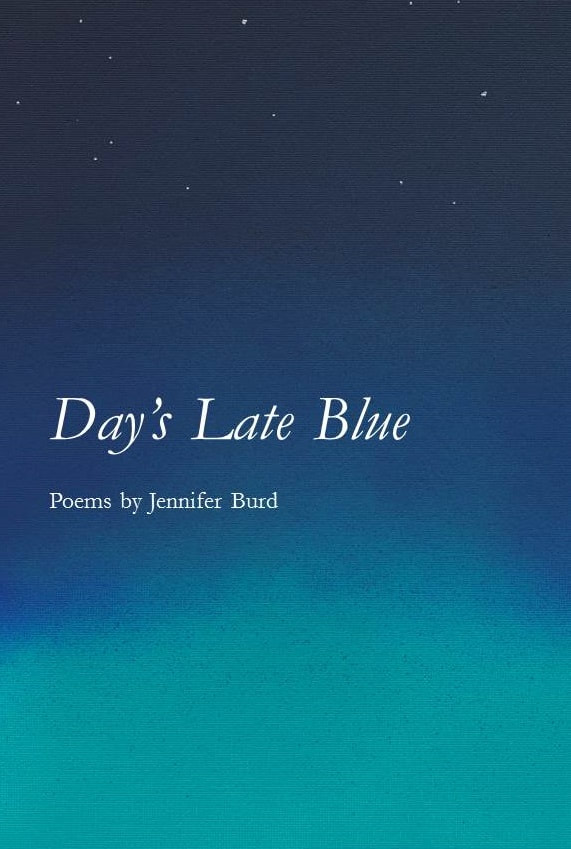 ​NewsJennifer's new book of poetry,
Day's Late Blue,
published by Cherry Grove Collections, was released in July 2017! The official book launch will be at Nicola's Books on Oct. 1 (see below under "Upcoming Events"). Below is a poem from the book, "If You Ask Me":
If You Ask Me
If you ask me
I'll say I dread
the coming cold
forgetting how
I'll warm myself
at the way the maple
holds fire
in its branches
but doesn't burn –
a slow flaring
until the embers fall –
and all winter
above the ashes
smoldering green
beneath the skin
Day's Late Blue
can be purchased from Jennifer, from


WordTech Communications



,
and at
Amazon.com
.
Upcoming EventsKerrytown BookFestSunday, September 10
10:30am-5:00pm
Ann Arbor Farmers Market
KerrytownBookFest.org
Jennifer and musician and writer Laz Slomovits will have a booth at this amazing annual event celebrating books, authors, and readers. Great speakers and workshops, as well as lots of booths with anything and everything you can imagine to do with books! Jennifer will have her newly released book of poems,
Day's Late Blue,
as well as her other books, including the book / CD collaboration with Laz,
Receiving the Shore.
They'll also have their "haiku coasters" for sale — yes, coasters, with their original haikus, illustrated by Melanie Boyle, and printed onto coasters by Mike Victor. Laz will also have his Rumi and Hafiz CDs, as well as Gemini children's recordings. One stop shopping for the entire family!
Concert Across AmericaSunday, September 24, 3:00pm
Michigan Coalition to Prevent Gun Violence
517-927-8392
Unitarian Universalist Church of Greater Lansing
5509 South Pennsylvania, Lansing, MI
Jennifer will join musician and writer Laszlo Slomovits, as well as a number of other artists and musicians, in a benefit concert to end gun violence in this country. Jennifer will read some of her poems and play psaltery to Laz's setting of her pieces and those of other writers. Similar events will be taking place on and around this date all across the United States, to bring awareness to this issue and to work to change it. In Michigan, this concert will be the culmination of Peace Quest which is a week of peace activities in the Greater Lansing area, beginning Sept. 17 with a march.
Day's Late Blue Book Launch Event!Sunday, October 1, 2017, 3 PM,
Nicola's Books, Ann Arbor
734-662-0600
This performance is the official book launch for Jennifer's new book of poetry,
Day's Late Blue.
These poems touch on relationships with nature, the human world, and family, taking a close look at the connections we make in our lives. Subjects of her pieces include a fallen nest of baby birds, an elderly mother's memory loss, a piece of mail at a homeless shelter, and tracks in snow. Michigan poet Janeen Pergrin Rastall has said of this book, "Jennifer Burd gives us a lyric pallette of life. Her poems weave shadows and light, loss and discovery with the delicate touch of an ink brush painter." Jennifer will be joined by Laszlo Slomovits, who will sing a selection of her poems that he has set to music; together they will lift this imagery off the page!
​
Past Events
Receiving the Shore
Thursday, August 3, 2017
6:30pm to 8:00pm, Island Books, Mercer Island, Washington
On August 3 in Mercer Island, Washington, just east of Seattle, Jennifer will read selections from
Receiving the Shore,
a joint book/CD project with Laszlo Slomovits, who will sing his song settings of some of the poems from the book.
Event address:
3014 78th Ave SE
Mercer Island, WA 98040
​
Saturday, July 22
1:00pm
810-742-7860
Poetry Set to Music
Genesee District Library — Baker Park Branch
3410 S. Grand Traverse St., Burton, MI
Jennifer will join Laz and San Slomovits of Gemini in
a program for adults, of a wide variety of poetry they've set to music. Come hear musical settings of poems by Robert Frost, e.e.cummings, Emily Dickinson, William Stafford, William Butler Yeats, A. E. Housman, as well as contemporary poets Naomi Shihab Nye, Dan Gerber, and Michigan's Linda Nemec Foster and Jennifer Burd. A special feature of this concert will be settings of the poetry of Rumi and Hafiz, 13th and 14th Century Persian mystics, in translations by Coleman Barks and Daniel Ladinsky.
​Classes
Jennifer will teach her course
"Mastering Metaphor,"
through the Loft Literary Center, from September 27 through November 8. Check it out at
loft.org
Course Description:
Metaphor is the heart of creative writing. It allows us to perceive objects, relationships, and ideas freshly; to feel transported through time; and to see through the eyes of someone of another generation, gender, culture, or even species! We can also think of metaphor as being more than simply stating one thing in terms of another - metaphorical meaning can be found in the relationship of the different parts of a poem, in the relationship between characters in a story, and even in the white space between the lines or stanzas of poetry or the sections of prose! Through reading, writing, and sharing work, we will identify and examine different types of metaphor and metaphorical structures and use them expressively in original writing. Students will create different types of metaphor in journal exercises that are themselves structured as metaphor ("Take Your Journal Out for Coffee!") and choose between options for writing original poems or prose pieces and discussing metaphor in the work of established writers.
Register through
The Loft
.
​

Walking Into Dawn:
Creative Writing Mentoring

"One breath taken completely; one poem, fully written, fully read - in such a moment, anything can happen."
― Jane Hirshfield, Nine Gates: Entering the Mind of Poetry

Jennifer offers mentoring in poetry and creative nonfiction. The process and number of weeks can be tailored to your goals and timeframe. Contact Jennifer at jburd@tc3net.com for more information. Sample information for poetry mentoring follows:

POETRY MENTORING
What the process looks like:

For each of four weeks Jennifer will
- Provide a daily journal-writing prompt
- Critique up to four pieces, either new pieces or revisions
- Provide prompts for new work
- Provide exercises (and give feedback) each week, related to your unique writing issues and interests
- Provide four poems by published poets to look at and discuss together
- Be available for questions and discussion on writing ideas and technique

At end of the month Jennifer will:

- Suggest journals to send to
- Suggest ongoing exercises and prompts
- Suggest other writers to read, to further your particular writing goals

Cost: $175.00 for four weeks

​
PublicationsBooks:
Day's Late Blue
(Poetry; Cherry Grove Editions, scheduled for release July 2017)
Receiving the Shore
(Poetry/CD, with Laszlo Slomovits; Little Light Publications, 2016); see a review in the
Ann Arbor Observer
Body & Echo
(Poetry; Plain View Press, 2010)
Daily Bread: A Portrait of Homeless Men & Women of Lenawee County Michigan
(Creative nonfiction; Bottom Dog Press, 2009)
Anthologies:
The Way North: Collected Upper Peninsula and New Works
(Edited by Ron Riekki; Wayne State University Press, 2013): "haiku"
Memories Flow in Our Veins: 40 Years of Women's Writing from CALYX
(Calyx Editorial collective; 2016): "Recalculating"
Poetry in Print Journals:
Jennifer has had poetry published in numerous print journals, including
Beloit Poetry Journal, Southern Poetry Review, Calyx, Modern Haiku, Acorn,
and
Haiku Presence.

​​
Selected Poetry Archived in Online Journals:
tinywords:
haiku, November 15, 2016
Ann Arbor Review:
Issues 9 – 16
NEAT (Winter 2015):
"Before and After"; "Beginning"
Glint,
Issue 7, Fall 2015
Antiphon:
Issue 11, Spring 2014
Joint Poetry with Laszlo Slomovits Archived in Online Journals:
Segue:
Volume 12, Fall 2014
Redheaded Stepchild: (Winter 2015): "Between Light"​
Articles in Online Journals:
Poets Quarterly, Summer 2015​:
"White Space as Metaphoric Frame"
Awards

​The Bellingham Review, Spring 1988 (second place, 49th Parallel Poetry Contest)

Michigan Associated Press Editorial Association Award, 2002 (third place for "Homeless in Lenawee County" series published in The Daily Telegram, Adrian, Michigan)

​